Super Kid and Tot Shabbat Outdoors
Saturday, June 19, 2021
•
9 Tammuz 5781
2:00 PM - 3:00 PM

Next Super Kid & Super Tot Shabbat Outdoors
(ages 0-7)
Saturday, June 19th at 2pm
Join us outdoors at Or Atid for singing, dancing, arts and crafts, and more for this Walls of Jerusalem-themed event!
For our craft, we'll make a Jerusalem tissue paper collage!
Click here to see examples.
For ages 1 day to 7 years old, older and younger siblings and family members welcome, unaffiliated families welcome!
Click here for our COVID guidelines.
Click Here to Register:
Share Print Save To My Calendar
Wed, June 23 2021
13 Tammuz 5781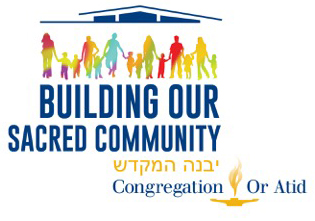 Quick Links
Upcoming Events
All Events
Wednesday

,

Jun

June

30

,

2021

Taste of Hebrew Reading sample class


Wednesday, Jun 30th

7:30p

to

8:30p




Come and enjoy a free "Taste of Hebrew Reading" Sample Class Wednesday, June 30, 7:30- RSVP rabbi@congregationoratid.org

Friday

,

Jul

July

9

,

2021

Kabbalat Shabbat Outdoors


Friday, Jul 9th

6:00p

to

7:00p




Join Rabbi Polisson and friends outdoors at Or Atid to celebrate Spring and welcome Shabbat with songs of gratitude and joy! Let's salute the new season and count the Omer together. RSVP required for in-person attendance This program will also be available on ZOOM and Live-streamed on Facebook. Zoom link here

Sunday

,

Jul

July

11

,

2021

Racial Justice Working Group


Sunday, Jul 11th

4:00p

to

6:00p




Racial Justice Working Group

Thursday

,

Sep

September

23

,

2021

Board Meeting


Thursday, Sep 23rd

7:30p

to

9:00p




Wednesday

,

Oct

October

13

,

2021

Board Meeting


Wednesday, Oct 13th

7:30p

to

9:00p




Wednesday

,

Jan

January

12

,

2022

Board Meeting


Wednesday, Jan 12th

7:30p

to

9:00p




Wednesday

,

Mar

March

23

,

2022

Board Meeting


Wednesday, Mar 23rd

7:30p

to

9:00p




Wednesday

,

Apr

April

13

,

2022

Board Meeting


Wednesday, Apr 13th

7:30p

to

9:00p




Saturday

,

Apr

April

30

,

2022

Lisa Levine-Smith Bat Mitzvah


Shabbat, Apr 30th

9:30a

to

12:30p




Saturday

,

May

May

7

,

2022

AJ Ahavah Rosenthal Bat Mitzvah


Shabbat, May 7th

9:30a

to

12:30p



Wed, June 23 2021 13 Tammuz 5781