Adult Education
Adult Education
Passionate community of learners
In Judaism, learning is a life-long process, and each stage of learning brings with it special blessings and insights. At Congregation Or Atid, we offer a wide variety of courses for adults where we explore our rich heritage in a literary and historical way. Classes are taught by Rabbi Polisson and a number of scholars who share their wisdom with us. In addition, Or Atid is honored to have sponsored Hebrew College's Me'ah program, an intensive, two-year graduate level study program for adults.
Something for everyone
Whether you are a serious or casual learner, we have classes and programs that will stimulate and challenge your mind and spirit. For our scholars, we offer intensive Torah and Talmud study classes. We also offer Hebrew for beginners.
Just for fun......
Spend an afternoon with "Or Atid Reads" discussing politically current books like "Start Up Nation" or NY Times bestselling novels like "City of Thieves". Enjoy movie night featuring films like "The Dybbuk", one of the top 10 Jewish films of all time. We also explore contemporary themes from a biblical and psychological perspective like "Jewish Guilt 101" or "Family Struggles from the Book of Genesis".
To find out more
Contact Rabbi Polisson at 508-358-9623 or rabbi@congregationoratid.org.
Current class offerings:
Purim Thursday, March 5, 7:30 – 9pm
Pesah Tuesday, March 24, 7:30 – 9pm
Shavu'ot Thursday, May 21, 7:30 – 9pm

Join Rabbi Poisson for a tour of Jewish music throughout the world and throughout history focusing on different holidays.
Thursdays, 7-8:30p.m. March 12, March 19, March 26 and April 2
This 4-session class, taught by a beloved GTJL facilitator, Leann Shamash, will bring Jewish sources of wisdom to bear on today's most compelling grandparenting questions. • How do we maintain good relationships with our children and grandchildren and not let our differences divide us? • How do our roles as grandparents evolve as our children and grandchildren change? • How are we shaped by our relationships with our own parents and grandparents? • How do we transmit our values and heritage to our grandchildren? The class is open to the public and grandparents of all backgrounds. $65 per person and $110 per couple. Tuition assistance available. To register at: https://hebrewcollege.edu/grandparenting-through-a-jewish-lens-registration For more information or questions, please contact Ahava Rosenthal at arosenthal@hebrewcollege.edu or Amy Silverstein at amysilverstein@comcast.net
March 29, April 5, April 12, May 3, May 17, May 31
Sunday evenings, 7-8:30p.m

Join Rabbi Polisson to begin learning how to read and understand Hebrew, with a focus on basic Hebrew words from the Torah and the siddur (prayer book) - most of which are used in Modern Hebrew as well. In just six sessions, we'll go from learning (or re-learning) the Aleph Bet (Hebrew alphabet) to reading and singing Ha-Tikvah, the Israeli national anthem!
Mon, March 30 2020
5 Nisan 5780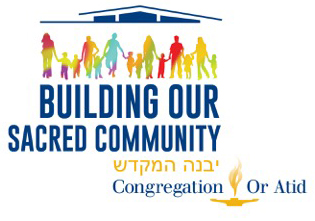 Quick Links
Upcoming Events
Mon, March 30 2020 5 Nisan 5780