College Connection
Keeping our college kids connected
At Congregation Or Atid, our goal is to continue to engage with our Youth once they leave the nest and go off to college. We want our students to know that Or Atid provides a place for them to turn and return to.
What we do
Or Atid parents of college-age children will gather together at different times during the year to assemble student packages. Parents can also share their children's college-age experiences and concerns so we can support each other!
Packages sent will have a message from the Rabbi and may include synagogue news, novelties, timely articles, jewish humor and special treats with a holiday theme such as during Rosh Hashanah, Chanukkah and Passover.
A fun, relaxed gathering will be planned during a typical college vacation break (most likely January) for our students to re-connect with their old classmates and Or Atid friends.
We'll also have a College Connection Directory with our students' contact info so they can keep in touch with each other - and for our community to stay in touch with them.
(For our High School graduates, an Or Atid celebration will be planned for the Spring to show them our appreciation and support for the next phase in their lives).
How to sign up
Submit your student's college address and e-mail by filling out this form We'll re-confirm your child's address and e-mail annually. If your student is studying abroad, we'll make sure to keep in touch by email.
$36 per student helps to defray the cost of materials and shipping and is greatly appreciated. Additional donations are always welcome. Donations should be sent to the synagogue office, checks payable to Congregation Or Atid memo line: College Connection.
Get involved
For questions or more info email Amy Rose at collegeconnection@congregationoratid.org.
Wed, May 31 2023
11 Sivan 5783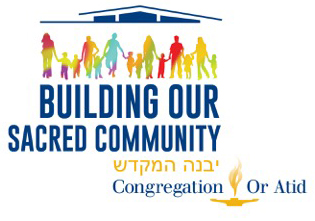 Quick Links
Upcoming Events
For Membership Information Go Here.
We welcome all! For information on Interfaith families Go Here.
Sustaining Pledge Model

Holding true to our core principles, no one will be denied membership at Or Atid for financial reasons. To learn more about our Sustaining Pledge Model Go Here.
Innovative and Accessible Dues Program at Or Atid
Today and every day, members turn to Or Atid as a vital center for celebration, solidarity, learning and support.
New Guide for Reporting Antisemitic Incidents
Anti-Defamation League New England (ADL) and CJP are pleased to announce a new collaboration which has resulted in the creation of an informative resource guide to effectively support our community members in reporting antisemitic or bias incidents. For more information, see CJP's website or download the flyer.

Go to Amazon.com ifor your shopping and to benefit Or Atid! When you make a purchase, Amazon will donate a percentage to Or Atid through the Amazon Associates program.
Wed, May 31 2023 11 Sivan 5783