Yad Chesed
Yad Chesed is Ready with a "Helping Hand"
Whether it's a lifecycle celebration, an illness or other challenging time, Or Atid's Yad Chesed ("Helping Hand") committee is here to help and support members of our community. We work with our members with the utmost discretion and sensitivity. We can help organize meals, carpools, errands or logistics during an illness, after surgery or a death in the family or even after a new addition to the family.
How do I reach Yad Chesed?
Whether you have a need or you know of another member who can use some assistance, please reach out to us. You can speak with any of our committee members at yadchesed@congregationoratid.org, Rabbi Polisson at rabbi@congregationoratid.org or the President of the Congregation at president@congregationoratid.org.
How can I help?
Our strength as a congregation is based on our strong links to each other - let's make sure that our entire Or Atid family stays connected. As many circumstances are unpredictable, it helps for our community to be organized in advance. Please consider the options below:
• Let us know if you are available to help with a "mitzvah meal" or other task by emailing one of our committee co-chairs yadchesed@congregationoratid.org. We will place your name on our standing list of members who are ready to help out.
• Sign up for the Or Atid Lotsa Helping Hands (LHH) site. Lotsa Helping Hands is an easy-to-use online calendar that enables members to schedule and sign up for tasks such as providing meals, rides to medical appointments, friendly visits and other errands. Our Yad Chesed coordinator will post requests when a need arises so volunteers like you can easily see what's needed. Once you sign up for a task, LHH will send an automatic reminder so that you won't forget your commitment. Simply Go here to sign-up for our Or Atid Helping Hands community.
Help us continue to make Or Atid a caring community!
Wed, May 31 2023
11 Sivan 5783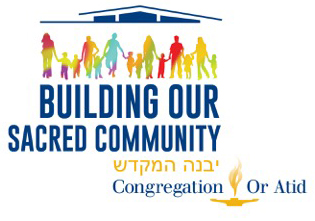 Quick Links
Upcoming Events
For Membership Information Go Here.
We welcome all! For information on Interfaith families Go Here.
Sustaining Pledge Model

Holding true to our core principles, no one will be denied membership at Or Atid for financial reasons. To learn more about our Sustaining Pledge Model Go Here.
Innovative and Accessible Dues Program at Or Atid
Today and every day, members turn to Or Atid as a vital center for celebration, solidarity, learning and support.
New Guide for Reporting Antisemitic Incidents
Anti-Defamation League New England (ADL) and CJP are pleased to announce a new collaboration which has resulted in the creation of an informative resource guide to effectively support our community members in reporting antisemitic or bias incidents. For more information, see CJP's website or download the flyer.

Go to Amazon.com ifor your shopping and to benefit Or Atid! When you make a purchase, Amazon will donate a percentage to Or Atid through the Amazon Associates program.
Wed, May 31 2023 11 Sivan 5783