Our Congregation
Warm and welcoming community
Congregation Or Atid (which means "Light of the future") is a dynamic and committed congregation in Wayland, MA, a short drive west of Boston. For over 25 years we have lit the path for those seeking a meaningful and engaging Jewish life in Metrowest Boston.
Inclusiveness and participation
We are a progressive, egalitarian Conservative congregation that openly embraces individuals and families from diverse backgrounds. Interfaith, single or partnered, gay or straight, already involved or seeking Jewish connection, all are welcome here. Our shared values support a deep love of Judaism and its traditions in a way that is accessible for all.
Core values
What makes us truly special is the intimacy of a Jewish community that places great value on joyful connections among our members, caring for each other and bettering the world around us. Jewish learning is at our core and we constantly strive to ensure that our members, regardless of age or stage of life cycle, experience the full breadth of Jewish knowledge and tradition, and expression of personal spirituality.
To learn more about us
Stop by, give us a call at 508-358-9623 or email our Membership Chairperson, Meg Umlas at membership@congregationoratid.org. We look forward to meeting you.
Wed, May 31 2023
11 Sivan 5783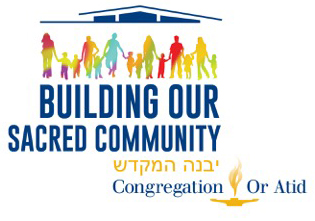 Quick Links
Upcoming Events
For Membership Information Go Here.
We welcome all! For information on Interfaith families Go Here.
Sustaining Pledge Model

Holding true to our core principles, no one will be denied membership at Or Atid for financial reasons. To learn more about our Sustaining Pledge Model Go Here.
Innovative and Accessible Dues Program at Or Atid
Today and every day, members turn to Or Atid as a vital center for celebration, solidarity, learning and support.
New Guide for Reporting Antisemitic Incidents
Anti-Defamation League New England (ADL) and CJP are pleased to announce a new collaboration which has resulted in the creation of an informative resource guide to effectively support our community members in reporting antisemitic or bias incidents. For more information, see CJP's website or download the flyer.

Go to Amazon.com ifor your shopping and to benefit Or Atid! When you make a purchase, Amazon will donate a percentage to Or Atid through the Amazon Associates program.
Wed, May 31 2023 11 Sivan 5783