Sisterhood
So what is Sisterhood about?
It's about making Hamentashen for Purim and knitting afghans for the needy on Mitzvah day; holding an annual Sisterhood Shabbat, encouraging women to participate in all aspects of the Shabbat service; coordinating a visiting scholar to speak about women's issues during kiddush; learning and laughing together as we soul-search during Rosh Chodesh and more. Come make lasting friendships as we support our Or Atid community and the community in which we live.
"Sisterhood bonds"
Please join us this year as we grow and broaden our programs that nourish our minds, bodies and souls and support our synagogue community. Or Atid member annual dues is $25 and $30 for non-members. For questions, email Sisterhood.

Or Atid Cookbooks and Aprons for Sale!
The cost of the cookbook is $25 and the apron is $20. Proceeds benefit Sisterhood activities. We deliver!
If you have any questions or would like to place an order, please email Debbie or Arlene or call 508-358-4061.
Recent Photos!
Sisterhood hosted this popular event featuring Liz Barbour, noted author, chef and gardner, who showed us how to use items from our garden, home and more to transform our holiday buffet table into a work of art, plus she demonstrated two seasonal recipes!

Thu, March 30 2023
8 Nisan 5783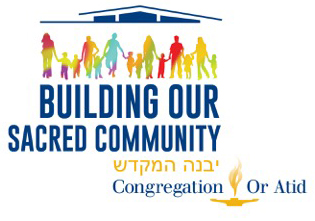 Quick Links
Upcoming Events
For Membership Information Go Here.
We welcome all! For information on Interfaith families Go Here.
Sustaining Pledge Model

Holding true to our core principles, no one will be denied membership at Or Atid for financial reasons. To learn more about our Sustaining Pledge Model Go Here.
Innovative and Accessible Dues Program at Or Atid
Today and every day, members turn to Or Atid as a vital center for celebration, solidarity, learning and support.
New Guide for Reporting Antisemitic Incidents
Anti-Defamation League New England (ADL) and CJP are pleased to announce a new collaboration which has resulted in the creation of an informative resource guide to effectively support our community members in reporting antisemitic or bias incidents. For more information, see CJP's website or download the flyer.

Go to Amazon.com ifor your shopping and to benefit Or Atid! When you make a purchase, Amazon will donate a percentage to Or Atid through the Amazon Associates program.
Thu, March 30 2023 8 Nisan 5783