Welcome to Or Atid
Make your unique mark here

At Congregation Or Atid, you'll find a community that is welcoming, supportive, intellectually challenging and fun! We have a variety of unique programs and activities to choose from. Come find your special place here.
Below is just a sampling of the many opportunities to join in:
For the serious and casual learner:
We have an impressive calendar of study led by Rabbi Polisson and guest lecturers.
Connect with our many interfaith couples and families:
We offer special support and guidance to our interfaith families.
Join our active Sisterhood or Brotherhood:
This diverse group of men and women gather regularly for social times, intellectual pursuits and social action projects.
Help change the world:
Or Atid's Social Action Committee organizes and mobilizes our members to take part in community service and social action activities
Congregation Or Atid adult social group:
Join an enthusiastic group of people who share an appetite to experience the joys of Judaism within our adult community.
Vatikim:
We offer the wise elders of our community the chance to gather together on a monthly basis and be a part of special programs, lunches, lectures, and social activities.
Join us!
Click here for a complete list of our programs and groups and who to call for more information. For Vatikim or to learn more about our interfaith community, get in touch with Rabbi Polisson at 508-358-9623 or email rabbi@congregationoratid.org.
Mon, December 6 2021
2 Tevet 5782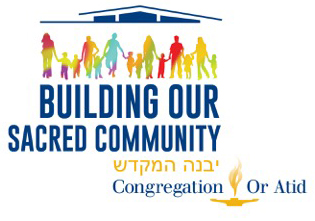 Quick Links
Upcoming Events
Mon, December 6 2021 2 Tevet 5782