Adult Education
Adult Education
Passionate community of learners
In Judaism, learning is a life-long process, and each stage of learning brings with it special blessings and insights.Our adult education program covers a wide variety of topics each year and is well-attended. Our goal is to present topics of interest to our membership and an engaging educational experience. Classes are taught by Rabbi Polisson and a number of scholars who share their wisdom with us. In addition, Or Atid is honored to have sponsored Hebrew College's Me'ah program, an intensive, two-year graduate level study program for adults.
Something for everyone
A recent Adult Education highlight was a 4-part guest speaker series on antisemitism which attracted nearly 1000 participants and engaged all local congregations and numerous Jewish organizations. This program established an informal support group among local congregations and organizations to address incidents of antisemitism.
Adult education led by our rabbi recently includes:
Weekly torah study
Matriarchs & Patriarchs – role models or dysfunctional families?
How to argue the Jewish Way
Hebrew 101
Being Parents of Bnei Mitzvot
Just Jew It - Easy Hacks to Add Meaning to Your Life
World Tour of Jewish Music
Torah Trope.
Adult education led by guest educators recently includes:
5 Elections in 3 years – the how and why of Israeli politics timed to coincide with Knesset elections
The Jewish Response to the Modern Civil Rights Movement & a group read of Just Mercy
Jewish Gangsters
Dementia Friends Workshop - Understanding Alzheimer's
Metrowest Jewish Women's Study Group
Jewish Papercutting.
We also offer courses in partnership with community organizations and other congregations:
Grand/parenting Through a Jewish Lens with Hebrew College
Yiddish Language Music & Food
Shalom Hartman Institute iEngage series The Future of Jewish Peoplehood.
To find out more
Contact Adult Education committee
Wed, May 31 2023
11 Sivan 5783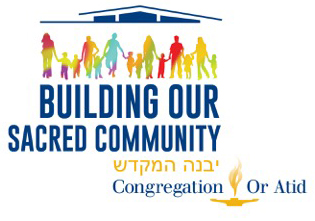 Quick Links
Upcoming Events
For Membership Information Go Here.
We welcome all! For information on Interfaith families Go Here.
Sustaining Pledge Model

Holding true to our core principles, no one will be denied membership at Or Atid for financial reasons. To learn more about our Sustaining Pledge Model Go Here.
Innovative and Accessible Dues Program at Or Atid
Today and every day, members turn to Or Atid as a vital center for celebration, solidarity, learning and support.
New Guide for Reporting Antisemitic Incidents
Anti-Defamation League New England (ADL) and CJP are pleased to announce a new collaboration which has resulted in the creation of an informative resource guide to effectively support our community members in reporting antisemitic or bias incidents. For more information, see CJP's website or download the flyer.

Go to Amazon.com ifor your shopping and to benefit Or Atid! When you make a purchase, Amazon will donate a percentage to Or Atid through the Amazon Associates program.
Wed, May 31 2023 11 Sivan 5783