Adult Education
Adult Education
Passionate community of learners
In Judaism, learning is a life-long process, and each stage of learning brings with it special blessings and insights. At Congregation Or Atid, we offer a wide variety of courses for adults where we explore our rich heritage in a literary and historical way. Classes are taught by Rabbi Polisson and a number of scholars who share their wisdom with us. In addition, Or Atid is honored to have sponsored Hebrew College's Me'ah program, an intensive, two-year graduate level study program for adults.
Something for everyone
Whether you are a serious or casual learner, we have classes and programs that will stimulate and challenge your mind and spirit. For our scholars, we offer intensive Torah and Talmud study classes. We also offer Hebrew for beginners.
Just for fun......
Spend an afternoon with "Or Atid Reads" discussing politically current books like "Start Up Nation" or NY Times bestselling novels like "City of Thieves". Enjoy movie night featuring films like "The Dybbuk", one of the top 10 Jewish films of all time. We also explore contemporary themes from a biblical and psychological perspective like "Jewish Guilt 101" or "Family Struggles from the Book of Genesis".
To find out more
Contact Adult Education committee
Sat, October 1 2022
6 Tishrei 5783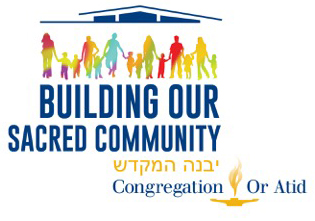 Quick Links
Upcoming Events
For Membership Information Go Here.
We welcome all! For information on Interfaith families Go Here.
Sustaining Pledge Model

Holding true to our core principles, no one will be denied membership at Or Atid for financial reasons. To learn more about our Sustaining Pledge Model Go Here.
Innovative and Accessible Dues Program at Or Atid
Today and every day, members turn to Or Atid as a vital center for celebration, solidarity, learning and support.
New Guide for Reporting Antisemitic Incidents
Anti-Defamation League New England (ADL) and CJP are pleased to announce a new collaboration which has resulted in the creation of an informative resource guide to effectively support our community members in reporting antisemitic or bias incidents. For more information, see CJP's website or download the flyer.

Go to Amazon.com ifor your shopping and to benefit Or Atid! When you make a purchase, Amazon will donate a percentage to Or Atid through the Amazon Associates program.
Sat, October 1 2022 6 Tishrei 5783