Welcome to Or Atid
Congregation Or Atid is a vibrant, innovative synagogue in Metrowest. Members turn to Or Atid for friendship, holiday observances, learning and lifecycle celebrations and support. We are delighted you are here and seeking to learn more about our warm, engaging community.
At Or Atid, we welcome all! For information on any upcoming event or program, email info@congregationoratid.org. For information on joining Or Atid and our Sustaining Pledge Model, visit our Membership Page.
Or Atid Connects


Shabbat Services - In Person and Online
Musical Kabbalat Shabbat Friday Night, Monthly - 6:00pm
Shabbat Torah Study, Weekly - 8:45am
Shabbat Morning Service - 9:30am

Click here to Live Stream Shabbat services on the Or Atid Facebook page or Meeting ID: 901 693 798 Click here for the Zoom link.
Calendar
Click here for full month program calendar
Quick Links
Social Action
Community Cooks
We are looking for individuals who can help prepare 40 bagged lunches, which include sandwich, snack, dessert, fruit & drink in their home, to be delivered to a Waltham community day center. Email social action if you are interested in helping! The remaining date for this year is December 21.
Community Volunteer Opportunities

Our Social Action co-chairs have compiled a comprehensive list of Tikkun Olam volunteer opportunities from delivering meals in the community to at-home projects to do with your families.
In this continued time of difficulty and uncertainty, our surrounding communities are in need of donations. Please consider giving to one of the following organizations:
Jewish Family & Children's Services
If you have questions please contact Maggie Rubin or Barbara Boykin.
Adult Programming
How to Argue -the Jewish way with Rabbi Polisson
November 17, December 8, December 15
Hear what Judaism says about our current controversies: abortion, trans rights, immigration, gun control, refugees and more. Put your new conversation skills to use at Thanksgiving and future family gatherings.

Or Atid Women's Book Group Reads: Horse
Tuesday, December 6, 7:30pm
Pulitzer Prize winning author Geraldine Brooks' latest novel
Horse
is a heart-pounding American epic that gallops backward and forward in time to tell a story about race and freedom, horses and art, and the lineage of not just ancestors but actions. Weaving together different narratives,
Horse
tells a distinctly American story that shines a light on the legacy of slavery and the pursuit of independence.
Jewish Learning Collaborative
The Jewish Learning Collaborative of Metrowest is a joint religious school program comprising of students from surrounding synagogues, as well as unaffiliated K through 8th grade students. This program is open to all students (regardless of synagogue membership or affiliation) who want to spend quality time with other Jewish children in the Metrowest area.
Tuition for affiliated families reflects a discounted rate. To learn more about the JLCMW contact Orna Sonnenschein.
Family Programming
Chanukah-Themed Super Tot Playgroup
Friday, December 2, 10:30-11:30am, at Or Atid
Drop in to our NEW monthly playgroup for children 0-4! Meet local parents while the kids enjoy the playground, hear a story, sing with the rabbi, and engage in an age-appropriate sensory craft/activity. A light breakfast will be served. The next date is January 6. RSVP appreciated but not required.
Chanukah at Or Atid
Klezmer for All: Sounds and Story to Light Up Your Winter
Sunday, December 11, 2:00pm
Temple Emanu-el of Haverhill (in person and on zoom)
Rabbi Polisson & Cantor Vera Broekhuysen will perform with members of
Shirim
.
This program is part of the collaborative Yiddish language and culture program. For more information email
programming@congregationoratid.org

Family Chanukah Party
Crafts, music, stories, social action, candle-lighting, and more! Lunch will be available.
Brighter Ignited Interactive Exhibit
Wednesday, December 21, 4:30-6:00pm, Or Atid
Parking lot
Brighter Ignited is an illuminated and travelling art exhibit designed by artist Tova Speter that actively encourages people to engage, connect, and play. Enjoy this super-sized interactive light display while sipping on hot chocolate and munching on
mini sufganiyot.
Wed, November 30 2022
6 Kislev 5783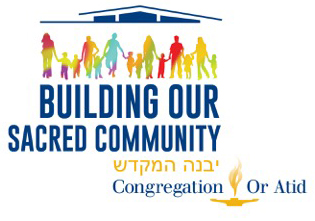 Quick Links
Upcoming Events
For Membership Information Go Here.
We welcome all! For information on Interfaith families Go Here.
Sustaining Pledge Model

Holding true to our core principles, no one will be denied membership at Or Atid for financial reasons. To learn more about our Sustaining Pledge Model Go Here.
Innovative and Accessible Dues Program at Or Atid
Today and every day, members turn to Or Atid as a vital center for celebration, solidarity, learning and support.
New Guide for Reporting Antisemitic Incidents
Anti-Defamation League New England (ADL) and CJP are pleased to announce a new collaboration which has resulted in the creation of an informative resource guide to effectively support our community members in reporting antisemitic or bias incidents. For more information, see CJP's website or download the flyer.

Go to Amazon.com ifor your shopping and to benefit Or Atid! When you make a purchase, Amazon will donate a percentage to Or Atid through the Amazon Associates program.
Wed, November 30 2022 6 Kislev 5783