Teens and Tweens
Teens and Tweens
Our programs, designed especially for 8th and 9th graders, offer a new way to think and feel about being Jewish in our world. We take the Jewish educational experience to the next level where teens explore their values, leadership skills and how to address the difficult questions they face every day.
Dear Or Atid High School families,
We are delighted to introduce you to our temple's newest educational initiative - J-LOFT.
J-LOFT (Jewish Learning Opportunities for Teens) is a new collaborative program between Or Atid and 6 other local synagogues, inviting all our High School students to learn, act, and celebrate together as one large teen community!
Building upon our success with HiBuR, we now offer more opportunities for our teens to expand their community, and their horizons, in a variety of ways -
Participate in RAC's Virtual Social Justice Academy
Continue learning with your HiBuR peers in the Israel and Us track
Dive into ancient and modern and Jewish texts and learn what they have to say about love, gender, and relationships
Continue to practice Tikkun Olam
Celebrate the Jewish Holidays together
All tracks are led and coordinated by clergy and professionals from Or Atid and our partnering temples!
The program will hold all its sessions virtually for now, with the hopes of switching to in-person when safe and possible.
To learn more about J-LOFT and how you/your teen can participate, and to sign up, visit http://jlofths.wordpress.com or reach out to Robin Wolk
JLCMW Middle School starts September 16th

Click here to join Zoom

Meeting Time: Wednesdays @ 4pm-5:15pm

Our time on Wednesdays will be divided into 1/3 for community time, 1/3 for Hebrew, and 1/3 for core classes. The core classes will rotate each semester as follows:

Fall: Students will learn in specific core classes for their grade.

Winter: Students will participate in the MetroWest STOP program

Spring: Students will choose electives

JLCMW 6th graders participate both in the middle school program and their own 'stand alone' 6th grade class on Sundays. This provides this age group with a year of both being the oldest students in our lower school program, and providing them with the opportunity to begin to chart their own course for their lifelong learning in community.

TELEM

TELEM is a program in partnership with the Jewish Community Relations Council (JCRC) of Greater Boston and the Minuteman Arc of Concord MA. TELEM students and educators will work with our partner organization Minuteman Arc to help support the social needs of adults with developmental disabilities living in group homes. The class includes learning about individuals with different abilities through text study, activities, guest speakers, and movies. We will visit residents of the Minuteman Arc in their group home, where students will build friendships and create memories through conversation and weekly activities. TELEM offers the opportunity for students to develop their leadership skills and ability to connect with people from all walks of life. Teens in Grades 8-12 are eligible to participate. Meeting Times: Monday Evening 6:00-8:00.
Click here to register!
HiBuR
HiBuR is an innovative and immersive exchange program that fosters connections between teens from a group of synagogues in Metrowest, and Beit Sefer Hugim, a public high school in Haifa. Through HiBuR, teens develop person to person connections, learn about each other's Jewish cultures and identities and develop a sense of Jewish Peoplehood that extends beyond local and national boundaries.
The program includes two mifgashim (meetings in Hebrew) in which teens visit each other's families and communities, an extensive curriculum for Metrowest participants, as well as a year-long joint curriculum with the Hugim school.
​
The Boston mifgash, which takes place in the Fall, begins with a joint weekend at NYC and continues with a week of home hospitality in the Metrowest area. During the Israel mifgash over February break, the teens spend a week with their hosts in Haifa and end with a weekend together in Jerusalem.
Wed, May 31 2023
11 Sivan 5783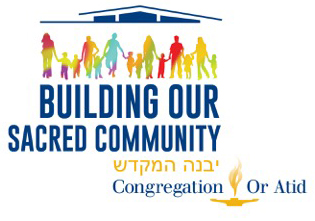 Quick Links
Upcoming Events
For Membership Information Go Here.
We welcome all! For information on Interfaith families Go Here.
Sustaining Pledge Model

Holding true to our core principles, no one will be denied membership at Or Atid for financial reasons. To learn more about our Sustaining Pledge Model Go Here.
Innovative and Accessible Dues Program at Or Atid
Today and every day, members turn to Or Atid as a vital center for celebration, solidarity, learning and support.
New Guide for Reporting Antisemitic Incidents
Anti-Defamation League New England (ADL) and CJP are pleased to announce a new collaboration which has resulted in the creation of an informative resource guide to effectively support our community members in reporting antisemitic or bias incidents. For more information, see CJP's website or download the flyer.

Go to Amazon.com ifor your shopping and to benefit Or Atid! When you make a purchase, Amazon will donate a percentage to Or Atid through the Amazon Associates program.
Wed, May 31 2023 11 Sivan 5783