Moving Traditions: Tzelem for Trans and Nonbinary Teens
Moving Traditions: Tzelem for Trans and Nonbinary Teens
Moving Traditions: Tzelem for Trans and Nonbinary Teens
For the third year, in 2019-2020 Moving Traditions is offering online groups for trans, nonbinary, gender fluid, and gender questioning Jewish teens. Like Rosh Hodesh and Shevet, Tzelem is an opportunity for transgender, genderqueer, and nonbinary Jewish teens to connect with one another and to explore key issues in their lives through a Jewish lens --- including friendship, self-compassion, mental health, intimacy, gender expression, and belonging.
As one participant eloquently explained, "Being in Tzelem helped me think about how I want to be perceived in the world and how I can do this through religious and gender identity."
Offered in partnership with Keshet, Tzelem online groups will begin in September, meeting monthly through May, and participation fees are $80 per teen (for 8 two-hour sessions). Scholarships are available --- no one will be turned away.

We are also excited to announce two new in-person Tzelem groups launching in Boston and New York and the return of Tzelem for LGBTQ+ teens in Los Angeles, run in partnership with JQ International.
For more info go HERE.
Wed, May 31 2023
11 Sivan 5783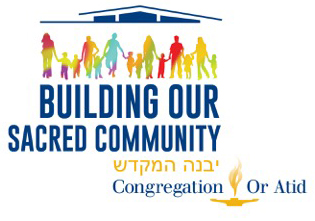 Quick Links
Upcoming Events
For Membership Information Go Here.
We welcome all! For information on Interfaith families Go Here.
Sustaining Pledge Model

Holding true to our core principles, no one will be denied membership at Or Atid for financial reasons. To learn more about our Sustaining Pledge Model Go Here.
Innovative and Accessible Dues Program at Or Atid
Today and every day, members turn to Or Atid as a vital center for celebration, solidarity, learning and support.
New Guide for Reporting Antisemitic Incidents
Anti-Defamation League New England (ADL) and CJP are pleased to announce a new collaboration which has resulted in the creation of an informative resource guide to effectively support our community members in reporting antisemitic or bias incidents. For more information, see CJP's website or download the flyer.

Go to Amazon.com ifor your shopping and to benefit Or Atid! When you make a purchase, Amazon will donate a percentage to Or Atid through the Amazon Associates program.
Wed, May 31 2023 11 Sivan 5783