Rabbi Louis Polisson
Rabbi Polisson is thrilled to have joined Congregation Or Atid as Rabbi in July 2018, drawn by the community's warmth, energy, and commitment to Torah (lifelong learning), Avodah (meaningful prayer), and Gemilut Hasadim (acts of lovingkindness).
Originally from New Haven, Connecticut, Rabbi Polisson earned his B.A. in Classical Studies from Brandeis University, where he met his wife Gabriella Feingold in a co-ed Jewish a cappella group. He received rabbinic ordination and an M.A. in Jewish Thought from the Jewish Theological Seminary (JTS) in May 2018. As a Gladstein Fellow in Entrepreneurial Rabbinic Leadership, he previously served as Rabbi of Congregation Eitz Chaim of Monroe, NY and as Rabbinic Intern at Temple Israel Center of White Plains, NY.
Rabbi Polisson has taught in an array of Jewish educational settings, cultivating in all ages an understanding and love of Judaism. He has served as an educator at Jewish organizations, camps, and Hebrew schools across the Northeast.
Rabbi Polisson is a musician and a composer, and has studied klezmer and world Jewish music with such luminaries as Alicia Svigals, Cantor George Mordecai, and Joey Weisenberg. Most recently, he was awarded a grant from the Hadar Institute to record and produce an album of original Jewish and spiritual songs with his wife, Gabriella Feingold, released in November 2018. Click here to listen.
Rabbi Polisson studies and teaches Jewish meditation and spiritual practices and is passionate about connecting people to Judaism, Jewish community, and the Divine. He understands the power of relational community organizing and the importance of relationship-building, which is central to his work as a rabbi. Rabbi Polisson invites you to join him in living out a vision of Conservative Judaism that is rooted in tradition, meaningful, and relevant to our lives today.
Rabbi Polisson and his spouse Gabriella Feingold live in Wayland. They are the proud parents of Asher Meir Feingold Polisson, who was born in 2019 and whose Berit Milah (bris and naming ceremony) was held at Or Atid.
You can reach Rabbi Polisson by calling our synagogue office at 508-358-9623 or email rabbi@congregationoratid.org.
Wed, May 31 2023
11 Sivan 5783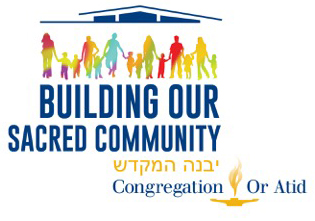 Quick Links
Upcoming Events
Wed, May 31 2023 11 Sivan 5783