Make Or Atid Your Spiritual Home
Make Or Atid Your Spiritual Home
Why Or Atid is unique
When you walk through the doors of our synagogue, you'll find the warmth and intimacy of a small congregation where the Rabbi knows everyone's name; a place that offers you and your family countless ways to be part of our welcoming community; and a membership of people who share the same vision of spiritual, social and intellectual growth and the importance of Tikkun Olam and helping those in need.
All welcomed at Or Atid
Whether you are single or partnered; gay or straight; Jewishly involved or seeking Jewish connection; from an interfaith or a Jewish home; be part of our welcoming community. Come talk with our Rabbi Louis Polisson and tell him your needs and wants to make your Jewish experience the most meaningful for you and your family. Our synagogue community is represented by a rainbow of members who come from different backgrounds and family make-up, but all blend together in the love and warmth of our Or Atid family.
Be our Guest
If you are new to the area, or just want to learn more about Congregation Or Atid, our community welcomes you! Come and experience Or Atid at our highly participatory Shabbat services led by Rabbi Louis Polisson. You can also sit in on one of our Hebrew School classes to see our teachers and students in action. Or join us for any of our adult education classes, social action activities, cultural events, holidays and more. For details, email us at info@congregationoratid.org.
Joining Or Atid is accessible and affordable!!!
There has never been a better time to become a member of our community. Or Atid is the first synagogue in Metrowest to eliminate dues in favor of pledges and one of only 20 in the country to offer this breakthrough initiative. Our Sustaining Pledge program makes joining Or Atid more affordable and accessible for you and your family.
Contact us anytime
Contact our Membership Chairs, for more information. If you are ready to join, just fill out our Online Membership Application Form.
Wed, May 31 2023
11 Sivan 5783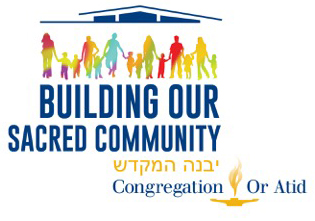 Quick Links
Upcoming Events
For Membership Information Go Here.
We welcome all! For information on Interfaith families Go Here.
Sustaining Pledge Model

Holding true to our core principles, no one will be denied membership at Or Atid for financial reasons. To learn more about our Sustaining Pledge Model Go Here.
Innovative and Accessible Dues Program at Or Atid
Today and every day, members turn to Or Atid as a vital center for celebration, solidarity, learning and support.
New Guide for Reporting Antisemitic Incidents
Anti-Defamation League New England (ADL) and CJP are pleased to announce a new collaboration which has resulted in the creation of an informative resource guide to effectively support our community members in reporting antisemitic or bias incidents. For more information, see CJP's website or download the flyer.

Go to Amazon.com ifor your shopping and to benefit Or Atid! When you make a purchase, Amazon will donate a percentage to Or Atid through the Amazon Associates program.
Wed, May 31 2023 11 Sivan 5783