High Holidays 2020 - 5781
Or Atid's High Holidays Experience 2020/5781
Or Ve-Tikvah Ve-Shanah Tovah U-Metukah: Light, Hope, and a Good, Sweet New Year
Join Or Atid for experiences, some online and some outdoors, for a sense of light and hope as we all seek to experience a sweet beginning to the new year. Take a class, workshop or find opportunities to participat

e in the holidays with our Or Atid Community.
Mahzor and Tallit available to borrow for the holidays
All members of Or Atid may pick-up prayer books and tallit at the synagogue during one of four designated time slots. Click here to let us know the date you will pick up and how many prayer books you would like to borrow. For those unable to drive to the synagogue, we have volunteers to make home deliveries. Mahzor Lev Shalem are also available for purchase or as a digital download. Please indicate interest in these on the form.



Or Atid Talks in 3!
Reflections on the High Holidays, Judaism & the Meaning of Life in three minutes
Hearing from various congregants throughout our High Holiday services has become a beloved and anticipated tradition at Or Atid. This year, Or Atid Talks will be shared via video here in our weekly update, and posted on our website for future viewing.
Please see Nancy Marks' video here and Steve Grinspoon's video here.

---
Sanctuary visits at Or Atid
For many of us, private prayers in front of the Aron Kodesh are an important and meaningful part of the High Holidays This year we are offering various dates and times for each family to visit the sanctuary at Or Atid for 15 minute intervals in order to have time for this personal reflection. Appointments and masks will be required. Please email Rabbi Polisson if you would like him to be available for Misheberach or other prayers.
Erev Sukkot Shabbat Outdoor Service
Friday, October 2nd 6:00pm
Join Rabbi Polisson for A Musical Kabbalat Shabbat in our Sukkah. .
Sat, May 15 2021
4 Sivan 5781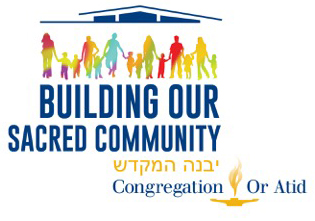 Quick Links
Upcoming Events
Sat, May 15 2021 4 Sivan 5781