High Holidays 2020 - 5781
Or Atid's High Holidays Experience 2020/5781
Or Ve-Tikvah Ve-Shanah Tovah U-Metukah: Light, Hope, and a Good, Sweet New Year
Join Or Atid for experiences, some online and some outdoors, for a sense of light and hope as we all seek to experience a sweet beginning to the new year. Take a class, workshop or find opportunities to participat

e in the holidays with our Or Atid Community.
Mahzor and Tallit available to borrow for the holidays
All members of Or Atid may pick-up prayer books and tallit at the synagogue during one of four designated time slots. Click here to let us know the date you will pick up and how many prayer books you would like to borrow. For those unable to drive to the synagogue, we have volunteers to make home deliveries. Mahzor Lev Shalem are also available for purchase or as a digital download. Please indicate interest in these on the form.



Or Atid Talks in 3!
Reflections on the High Holidays, Judaism & the Meaning of Life in three minutes
Hearing from various congregants throughout our High Holiday services has become a beloved and anticipated tradition at Or Atid. This year, Or Atid Talks will be shared via video here in our weekly update, and posted on our website for future viewing.
Please enjoy this week's reflection, given by Or Atid Trustee Howard Gold.

---



Rosh Hashanah Video Greetings
Share your holiday wishes to the Or Atid community
Create a video message for the new year that will be shared over the holidays. All families, couples, households are encouraged to submit a 15 second video message such as a meaningful experience you've had at Or Atid; what the High Holidays mean to you, or simply a "Shana Tova from your Family!" Videos must be submitted through the App VidHug by Friday September 11. The program is quick and easy to use and you will help us create a wonderful keepsake. Recordings can be done via your computer, tablet or phone. If you record with your phone, please hold it horizontally/landscape mode. Click here to get started. Questions? Contact Meg Umlas.

---
Sanctuary visits at Or Atid
For many of us, private prayers in front of the Aron Kodesh are an important and meaningful part of the High Holidays This year we are offering various dates and times for each family to visit the sanctuary at Or Atid for 15 minute intervals in order to have time for this personal reflection. Appointments and masks will be required. Sign up here. Please email Rabbi Polisson if you would like him to be available for Misheberach or other prayers.

Outdoor Tashlich at the Wayside Inn Grist Mill in Sudbury
Wed., Sept. 23, 5:30 to 6:30pm and
Sun., Sept. 27, 12pm to 1:00pm

Join us outdoors for this annual tradition to symbolically cast our sins into the water. Bring your own bread crumbs and join Rabbi Polisson for this meaningful ritual, rain or shine, at the Grist Mill.
Tue, September 22 2020
4 Tishrei 5781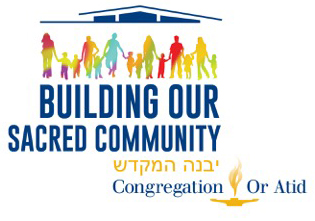 Quick Links
Upcoming Events
Tue, September 22 2020 4 Tishrei 5781