Request High Holiday Tickets
Request High Holiday Tickets
Tickets for Or Atid members
Congregation Or Atid members will receive an email link to join in for virtual services. While we regret we won't see each other in person this year, we look forward to "seeing" everyone remotely. Our dedicated High Holiday Committee is working tirelessly to provide a full menu of services for all ages. As these details are solidified, information will be provided on our website
Tickets for non-members
We have in past years charged non-members $250 per person for all High Holiday services inclusive. However, due to the unusual circumstances resulting from the novel Coronavirus and the method by which we will be conducting services this year, we will not be charging any fees. Please understand that Congregation Or Atid survives on the goodwill and generosity of our community, so a donation of any size would be very much appreciated.
"Be Our Guest" High Holidays Tickets
If you are new to the area, looking to find out more about Or Atid: or need a place to go for the holidays, please join our welcoming community. Kindly contact Jacquie Cohn at membership@congregationoratid.org for more information. Please send any donation to Congregation Or Atid, PO Box 28, Wayland, MA 01778
Contact Us With Questions
If you have questions about any aspect of the High Holiday services, please email highholidays@congregationoratid.org. Happy New Year!
Sat, July 31 2021
22 Av 5781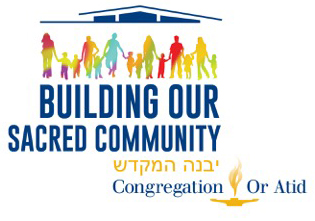 Quick Links
Upcoming Events
Sat, July 31 2021 22 Av 5781