Elul Daily Reflections
Elul Daily Reflections - 2020/5781

29 days of reflection
Rabbi Irving Greenberg, author of one of the classic guides to the holidays, The Jewish Way, explains that Elul is a time for 'accounting for the soul,' or cheshbon hanefesh (a reckoning with one's self). In The Jewish Way, Greenberg writes, "Just as the month before the summer is the time when Americans go on crash diets, fearing how their bodies will look on the beach, so Elul, the month before Rosh Hashanah, became the time when Jews went on crash spiritual regimens, fearing how their souls would look when they stood naked before God."
Take a few moments every day during the month of Elul to reflect on the daily trait. By engaging in this sustained period of reflection, you will be better prepared to experience the transformative potential of the High Holy Days.
Day 29 Trait: Worry / De'agah
Like many traits, the trait of worry is neither wholly good nor bad. Our tradition teaches us that it is good to look back on our actions with a critical eye, and to be concerned about how our decisions will affect others. But it is also important to feel untainted joy in response to the life we have been given.
Click here to see Bobby McFerrin, composer and singer of the hit song "Don't Worry, Be Happy," talk about why he didn't tour when his song first became popular. May we all have the ability to clearly see what matters most in life.
To paraphrase the Sephardic piyyut (liturgical poem) Aḥot Ketanah ("Little Sister"), let this year end with all its worries, and let the new year begin with all its blessings!
Personal Reflection:
What do you tend to worry most about? Does the worry motivate you toward useful action? Does worry get in the way of your experiencing your life in "real time"?
Day 28 Trait: Trustworthiness / Emunah
"Emunah is usually translated as 'faith' but also means 'trustworthiness.' Emunah is the trust that we create when our actions encompass integrity. Do we keep our word, follow-through and show up when we say we will?"
-- Rabbi David Jaffe
"One who tells a secret will forfeit trust, and find no true friend."
-- Ben Sira 27:16
Click here to view a TED Talk by British philosopher Onora O'Neill on trust and trustworthiness.
Personal Reflection:
To what extent have you earned the trust of others? To what extent do you live up to that trust?
Day 27 Trait: Truth / Emet
Judaism attaches great significance to intellectual honesty, as evidenced, for example, in the constant quest for the truth in Talmudic debates and among the medieval philosophers, the main thrust in the appeals for Jews to be truthful is in the direction of moral truth and integrity.
An often quoted rabbinic saying (from the Babylonian Talmud, Tractate Shabbat 55a) is: "The seal of the Holy Blessed One is Truth." In Rashi's explanation, this saying refers to the Hebrew word for truth, Emet, formed from the first letter of the alphabet, Alef, the middle letter, Mem, and the final letter, Tav. The God of truth is found wherever there is truth and God's absence is felt wherever there is falsehood.
We are to offer even our honest feedback to others only in a loving manner. Love is the secret ingredient that makes it possible to deliver the truth in a way that will allow it to be heard.
"A wise person acknowledges the truth."
-- Pirkei Avot 5:7
Click here to watch and listen to a teaching and meditation on Emet from the Institute of Jewish Spirituality.
Personal Reflection:
How open are you to hearing the truth about how others perceive you or your work? What stops you from seeking out this kind of "truth"?
Day 26 Trait: Silence and Careful Speech / Shetikah
Our words have power not only when spoken aloud but also when typed (as a Facebook post or comment, or in an email, etc.). This attribute reminds us that mindful silence heightens our spiritual sensitivity. Careful Speech or Shmirat HaLashon refers to being thoughtful about how we use the power of speech. Thoughtless and intentionally harmful speech are so harmful to relationships and communities that the rabbis equated Lashon Ha-Ra (harmful speech) to the three most grievous sins: idol worship, murder, and incest.
-- based on Maimonides, Hilkhot Dei'ot (Laws of Character Development) 7:4
Silences, like words, are powerful. Like any power, it depends how we use it and our motivation for doing so.
Click here to listen to "The Sound of Silence" by Simon & Garfunkel.
Personal Reflection:
Do you make time for personal silence? Do you find it challenging to not speak? Do you use silence to formulate careful speech? When do you wish you had been silent? When do you wish you had spoken up?
Day 25 Trait: Responsibility / Aḥrayut
Unlike much of the discourse in American and society, Jewish texts focus not on rights but on obligations and responsibilities. The rabbis of the Talmud focused on how people can fulfill their ḥiyyuv, their obligation to do mitzvot (commandments). Aḥrayut is another Hebrew word for the central Jewish concept of responsibility.
The Aleinu prayer, which now serves as a concluding prayer for every Jewish service, was originally written for Rosh Ha-Shanah. Aleinu is also one of the earliest Jewish prayers to mention the concept of Tikkun Olam, in the form of the words le-takkein olam be-malkhut Shaddai, to repair the world through the guidance of the Almighty. Tikkun Olam is the responsibility of every Jew to make the world a better place.
"What we call our destiny is truly our character and that character can be altered. The knowledge that we are responsible for our actions and attitudes does not need to be discouraging, because it also means that we are free to change this destiny."
-- Anaïs Nin
Click here to listen to the Jewish duo Kol B'Seder perform their setting of "Lo Alekha Ha-Melakhah Ligmor," quoting Pirkei Avot 2:16: "it is not upon you to finish the work of repairing the world, neither are you free to desist from it." And if you want to learn more about Tikkun Olam, click here to watch Rabbi Jill Jacobs teach about the Jewish concept and practice of repairing the world.
Personal Reflection:
To whom and for whom are you responsible? How have you fulfilled that responsibility over the past year?
Day 24 Trait: Repentance / Teshuvah
Teshuvah literally means "returning." Teshuvah is turning away from the path that pulls you away from your best self. Think of atonement as 'at-one-ment' - feeling and being at one with oneself.
Being at one with oneself is the result of teshuvah, but teshuvah takes personal effort. The great Rambam (Maimonides) laid out these four steps for teshuvah: Stop. Regret. Verbalize. Make a plan to apologize and to make things right.
"We come back to our attention, our own sense of being worthy or being beloved or in God's presence. Coming back to attention is a form of meditation practice. It describes how the mind moves away from attention and needs to be brought back. It is natural to turn away. How can we cultivate the willingness, the desire to turn us back to attention?"
-- Rabbi Sheila Peltz Weinberg on Teshuvah
Click here to watch a teaching and guided meditation on teshuvah led by Rabbi Jordan Bendat-Appell of the Institute for Jewish Spirituality.
Personal Reflection:
How do we practice Teshuvah, not just on Yom Kippur, but all year long?
Day 23 Trait: Regret / Ḥaratah
"It's hard to look back in regret if you have a stiff neck."
-- Rabbi Peretz Wolf-Prusan
It's fitting to think about regret tonight, the evening after the last Shabbat before Rosh HaShanah, when Ashkenazi Jews traditionally recite Seliḥot
- prayers for forgiveness. Maimonides taught that feeling regret is an important part of the process of teshuvah.
Sincere regret requires looking back at where you have been, looking around to see what we have done and looking at the people we have wronged. Only by atoning for our errors can we restore balance in our relationships.
Click here to watch a TED talk by author Kathryn Schulz on the importance of regret, which "reminds us that we know we can do better."
Click here to join Or Atid and other Conservative synagogues for Seliḥot services on Zoom at 10pm.
Personal Reflection:
Is there anything you regret as you consider the past year? How might that inform the process of teshuvah (repentance and returning to our core values) you will undertake as you prepare for the High Holy Days?
Day 22 Trait: Patience / Savlanut
When you find yourself in a situation that triggers your impatience, instead of giving all your attention and energy to finding fault in the other, you can choose to be patient and take responsibility for your emotional response to the situation. Some call this awareness and exercise of choice "opening the space between the match and the fuse." 
"I've spent a lifetime in challenge. There's no way in which you can create any meaningful change unless you do that."
-- Bella Abzug
Click here to listen to a podcast from meditation teacher Jack Kornfield on patience - it's (perhaps purposefully) long, but Rabbi Polisson says you can feel free to listen to part of or skip around it. Jack Kornfield teaches: "maybe the opposite of impatience is not patience, but somehow presence, trust, or contentment. To be able to begin to trust where you are. [The 13th-century Sufi poet] Rumi says, 'Don't be an impatient bystander in this life, be present for it.'"
Personal Reflection:
When do you find it easiest to be patient? In what situations do you tend to become impatient? Are there any common triggers? Is there anyone to whom you owe an apology as a result of your impatience?
Sat, December 5 2020
19 Kislev 5781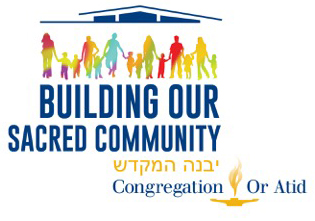 Quick Links
Upcoming Events
Sat, December 5 2020 19 Kislev 5781