Education Director
Education Director
Education Director at Or Atid
Orna Sonnenschein comes to us with over 15 years of administrative and education experience working with several synagogues and Jewish organizations in the Boston area. She served as Director of Education at Temple Israel in Boston, Temple Hillel B'nai Torah in West Roxbury and Temple Beth Am in Framingham. Her experience includes all aspects of synagogue education including family education programming, adult education and Jewish culture and heritage programming.
Orna's strength is in her commitment to the well-being of children and their parents, her dedication to designing meaningful yet fun experiences in the classroom, and encouraging social and emotional growth while nurturing the development of self and identity.
She will be partnering with Rabbi Polisson to lead our Jewish Learning Lab and to enhance our youth programming. Watch the calendar for opportunities to meet and welcome Orna to our community!
You can reach Orna by email at ornas@congregationoratid.org or by phone in the Or Atid office at (508) 358-9623.
Thu, March 30 2023
8 Nisan 5783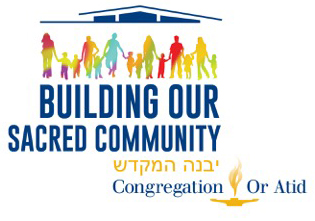 Quick Links
Upcoming Events
For Membership Information Go Here.
We welcome all! For information on Interfaith families Go Here.
Sustaining Pledge Model

Holding true to our core principles, no one will be denied membership at Or Atid for financial reasons. To learn more about our Sustaining Pledge Model Go Here.
Innovative and Accessible Dues Program at Or Atid
Today and every day, members turn to Or Atid as a vital center for celebration, solidarity, learning and support.
New Guide for Reporting Antisemitic Incidents
Anti-Defamation League New England (ADL) and CJP are pleased to announce a new collaboration which has resulted in the creation of an informative resource guide to effectively support our community members in reporting antisemitic or bias incidents. For more information, see CJP's website or download the flyer.

Go to Amazon.com ifor your shopping and to benefit Or Atid! When you make a purchase, Amazon will donate a percentage to Or Atid through the Amazon Associates program.
Thu, March 30 2023 8 Nisan 5783