Education Director
Education Director
Education Director at Or Atid
Orna Sonnenschein comes to us with over 15 years of administrative and education experience working with several synagogues and Jewish organizations in the Boston area. She served as Director of Education at Temple Israel in Boston, Temple Hillel B'nai Torah in West Roxbury and Temple Beth Am in Framingham. Her experience includes all aspects of synagogue education including family education programming, adult education and Jewish culture and heritage programming.
Orna's strength is in her commitment to the well-being of children and their parents, her dedication to designing meaningful yet fun experiences in the classroom, and encouraging social and emotional growth while nurturing the development of self and identity.
She will be partnering with Rabbi Polisson to lead our Jewish Learning Lab and to enhance our youth programming. Watch the calendar for opportunities to meet and welcome Orna to our community!
You can reach Orna by email at ornas@congregationoratid.org or by phone in the Or Atid office at (508) 358-9623.
Fri, January 28 2022
26 Shevat 5782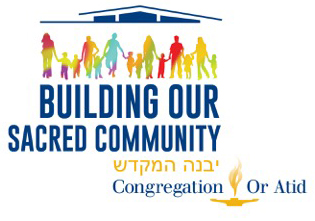 Quick Links
Upcoming Events
Fri, January 28 2022 26 Shevat 5782