Brotherhood
Our vision
Or Atid's Brotherhood is an active and diverse group of men who participate in social, educational and religious pursuits that benefit our synagogue, greater community and the ways of peace and righteousness within the traditions of our Jewish faith. We also plan fun activities that help strengthen the bond within our welcoming and close-knit group.
Programs that engage and inspire
When planning our yearly calendar, we pursue speakers that engage our members and guests in lively discussion about world events that impact us locally and abroad. Speakers have included Ben Marchette from AIPAC who spoke about Middle East unrest and Jeff Jacoby, celebrated columnist from the Boston Globe, discussed the often too-subtle distinction between anti-Israel and anti-semitic sentiment in popular media.
We've also sponsored and promoted an American Cross Blood Drive at Or Atid, coordinated fundraisers for organizations such as Camp Ramah New England as well as provided volunteers to help with Or Atid's Mitzvah Day, book swaps for the high holidays and other impromptu facility needs.
Just for fun...
Our Poker Night is an annual favorite with great food, fun and lots of laughs.
Join us
Poker Nights, Father-son Paintball, Brotherhood Shabbat. Boys' Night Out! We need your help to plan another great year! Email Mark Thirman with questions at brotherhood@congregationoratid.org and join in.
Wed, May 31 2023
11 Sivan 5783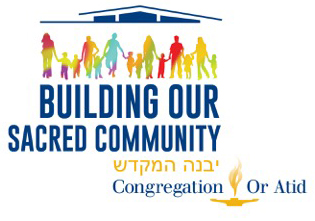 Quick Links
Upcoming Events
For Membership Information Go Here.
We welcome all! For information on Interfaith families Go Here.
Sustaining Pledge Model

Holding true to our core principles, no one will be denied membership at Or Atid for financial reasons. To learn more about our Sustaining Pledge Model Go Here.
Innovative and Accessible Dues Program at Or Atid
Today and every day, members turn to Or Atid as a vital center for celebration, solidarity, learning and support.
New Guide for Reporting Antisemitic Incidents
Anti-Defamation League New England (ADL) and CJP are pleased to announce a new collaboration which has resulted in the creation of an informative resource guide to effectively support our community members in reporting antisemitic or bias incidents. For more information, see CJP's website or download the flyer.

Go to Amazon.com ifor your shopping and to benefit Or Atid! When you make a purchase, Amazon will donate a percentage to Or Atid through the Amazon Associates program.
Wed, May 31 2023 11 Sivan 5783