Rabbi Emerita Sally Finestone
Rabbi Emerita Sally Finestone
Rabbi Sally Finestone recently joined Congregation Har Shalom in Fort Collins, Colorado. She served for twenty years as the Rabbi and Education Director of Congregation Or Atid, and as an instructor and counselor at the Harvard Divinity School. She began her rabbinic career as a Hillel director, and has worked on campuses in Cincinnati, Houston, and at Harvard.
Raised in the Blue Ridge Mountains of Virginia, Rabbi Finestone attended Duke University, and then attended Hebrew Union College - Jewish institute of Religion in Cincinnati for her rabbinic training, becoming the 11th woman in Jewish history to be ordained. She also holds a Masters in Hebrew Literature and an honorary doctorate from HUC-JIR, and a Masters in Theology from Harvard Divinity School. Her academic areas of interest include Biblical studies, medieval philosophy and thought, and history. A lover of classical music, dogs, and the New England Patriots, Rabbi Finestone has been married to Rabbi Boaz Heilman for almost 40 years, and they have been blessed with two children, Hannah and Jonathan.
Wed, May 31 2023
11 Sivan 5783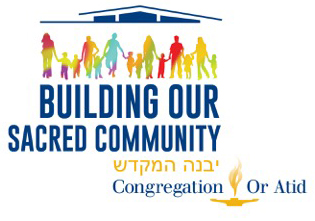 Quick Links
Upcoming Events
For Membership Information Go Here.
We welcome all! For information on Interfaith families Go Here.
Sustaining Pledge Model

Holding true to our core principles, no one will be denied membership at Or Atid for financial reasons. To learn more about our Sustaining Pledge Model Go Here.
Innovative and Accessible Dues Program at Or Atid
Today and every day, members turn to Or Atid as a vital center for celebration, solidarity, learning and support.
New Guide for Reporting Antisemitic Incidents
Anti-Defamation League New England (ADL) and CJP are pleased to announce a new collaboration which has resulted in the creation of an informative resource guide to effectively support our community members in reporting antisemitic or bias incidents. For more information, see CJP's website or download the flyer.

Go to Amazon.com ifor your shopping and to benefit Or Atid! When you make a purchase, Amazon will donate a percentage to Or Atid through the Amazon Associates program.
Wed, May 31 2023 11 Sivan 5783