Social Action - Tikkun Olam
Social Action - Tikkun Olam
At Congregation Or Atid, we place great value on caring for each other and bettering the world around us. In keeping with the Jewish teachings of G'milut Hasadim (acts of loving kindness) and Tikkun Olam (repairing the world), there are many opportunities for our members to get involved in community service and social action activities.
Here are just a few of our core programs. (For details and a complete list of our volunteer opportunities, go to our "Programs" link).
Helping The Homeless
Working with the regional organization called Family Promise Metrowest (formerly Metrowest Interfaith Hospitality Network) and in partnership with our neighbors at Peace Lutheran Church, we host and provide meals for up to four homeless families, for one or two weeks at a time, several times during the year. Other activities have included collecting winter coats and warm clothing for the homeless and linens and toiletries for the Massachusetts Coalition for the Homeless. We have also participated in the effort to provide emergency medical supplies and canned goods for survivors of such catastrophes as Hurricane Mitch in Central America.
JF&CS' Family Table
JF&CS Family Table is the largest kosher food pantry in eastern Massachusetts and serves more than 600 individuals every month. Healthy, nutritious food is provided on a monthly and emergency basis to individuals and families in need. Recipients receive groceries including fresh produce, dairy, protein rich foods, personal hygiene products, and Jewish holiday and ritual items such as challah and Shabbat candles. Family Table relies on the tireless efforts of hundreds of volunteers from the community and from 58 synagogues and day schools who collect, sort, pack, and deliver groceries to recipient families. Many of our volunteers are children who get invaluable hands-on experience of Tzedakah. For more info, email familytable@congregationoratid.org.
Purim Celebration
Each year in celebrating Purim, we collect food and assorted items to assemble Purim baskets which are distributed by Or Atid families to elderly people in the Metrowest area serviced by Jewish Family Services. Coordinated with our Religious School, students help bake Hamentaschen, make cards for the recipients, and assemble the baskets with parent volunteers.
Bar/Bat Mitzvah Community Service
In the spring, we arrange for our students who are approaching their Bar/Bat Mitzvah to serve a meal at Bristol Lodge in Waltham. In addition, students engage in community service projects during the year before their Bat/Bar Mitzvah ceremony.
Help change the world
For more information or questions regarding Family Table, contact familytable@congregationoratid.org. For our other Social Action Programs, contact socialaction@congregationoratid.org.
Fri, January 28 2022
26 Shevat 5782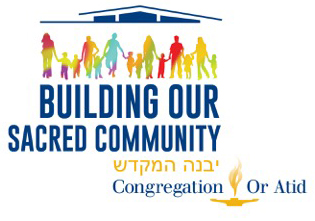 Quick Links
Upcoming Events
Fri, January 28 2022 26 Shevat 5782