Jewish Teen Social Service Opportunities
Jewish Teen Social Service Opportunities
CC Diller Teen Fellows
The Diller Teen Fellows is a 15-month pluralistic, national, youth leadership fellowship currently available in 16 North America and Israel communities. Twenty Boston area teens - the JCC Diller Teen Fellows - are selected yearly based on their leadership aptitude, commitment to Jewish learning, interest in exploring their connection to Israel, and passion for serving their community. Fellows participate in monthly Sunday workshops, three weekend retreats, a 10-day peer-peer exchange hosting the Haifa Diller Teen Fellows in Boston, and a three-week trip to Israel in the summer. Applications are accepted in the spring. Fellows must be high school sophomores or juniors. Teens from all backgrounds are encouraged to apply. For more information, go here.
The Fellowship year runs from September to December of the following year. The cohort is announced in June each year.
American Jewish Society for Service
American Jewish Society for Service (AJSS) is the premiere service-learning organization for Jewish high school students. Their flagship Summer of Service programs empower volunteers to put their Jewish values into action. In the 60+ years since their founding, AJSS programs have served over 150 communities in 48 states. For more information, go here.
Wed, May 31 2023
11 Sivan 5783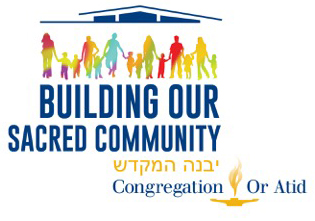 Quick Links
Upcoming Events
For Membership Information Go Here.
We welcome all! For information on Interfaith families Go Here.
Sustaining Pledge Model

Holding true to our core principles, no one will be denied membership at Or Atid for financial reasons. To learn more about our Sustaining Pledge Model Go Here.
Innovative and Accessible Dues Program at Or Atid
Today and every day, members turn to Or Atid as a vital center for celebration, solidarity, learning and support.
New Guide for Reporting Antisemitic Incidents
Anti-Defamation League New England (ADL) and CJP are pleased to announce a new collaboration which has resulted in the creation of an informative resource guide to effectively support our community members in reporting antisemitic or bias incidents. For more information, see CJP's website or download the flyer.

Go to Amazon.com ifor your shopping and to benefit Or Atid! When you make a purchase, Amazon will donate a percentage to Or Atid through the Amazon Associates program.
Wed, May 31 2023 11 Sivan 5783