High Holidays Schedule 2019-5780
High Holiday Service Schedule 2020-5781
Welcome to the High Holidays with Congregation Or Atid. While we won't see each other in person this year, we look forward to "seeing" everyone remotely. Rabbi Louis Polisson inspires as he leads us during our High Holiday services. In addition to our Main services, be sure to check out our special service options and programming for all ages.
Service Options for Children, Teens, and Adults
Congregation Or Atid has a full menu of service and programming options for young families with children ages 7 and younger, kids ages 8 to 12, teens in grades 8 to 12, and additional programming for all ages. Click here for complete details.
"Main" Services Schedule (see below)
For our Main services, simply click on the direct Zoom link for each service as indicated below. You can also access our Main services on Facebook Live. (Facebook account is not required) or go to Zoom.com and type in Meeting ID: 833 4091 5217. The Password is OrAtid5781
Links are also provided for additional services and programming by age group.
All participants will be muted upon entry. Please keep yourself muted throughout the service until prompted by the Rabbi or a Zoom Gabbai to do otherwise.
Yom Kippur

Sun., 9/27/20
Live Cello Performance by Jill Polisson
& Candle Lighting
Click Zoom Link
5:45pm
Kol Nidrei
Click Zoom Link
6:00pm
Mon., 9/28/20

Yom Kippur Storytime & Sharing
(For ages 0-7)
Led by Or Atid member and Art Educator
Jillian Gruentzig
Click Zoom link

9:00am
Main Service
Click Zoom Link
9:30am
All About Community
(For ages 8-12)
Led by Or Atid member Rabbi Rebecca Weinstein
Click Zoom Link
10:00am
Torah Service
Click on Zoom Link
10:15am
Rabbi's Sermon
Click Zoom Link
11:00am
Justice in Action
(For grades 8-12)
Yom Kippur is not only a day of fasting and forgiveness but also a day of recommitting to social justice. Join us for this panel of inspiring activists for a discussion on how we can combat racism, anti -Semitism, and fight for justice on many other important, pressing issues.
Click Zoom Link
11:30am
Yizkor
Click Zoom Link
12:00pm
Story of Jonah
(Program for all ages)
Join Rabbi Polisson and friends for a family-friendly telling of Jonah, the Haftarah for Yom Kippur. Or Atid members will help read and act out this story about forgiveness and self-improvement. Email Rabbi Polisson to secure your part!
Click Zoom Link
5:00pm
Minhah Service
Click Zoom Link
5:30pm

Ne'ilah
Click Zoom Link

6:30pm

Tekiyah Gedolah!
Grab your shofar and join fellow Or Atid members as we give one final blast of the horn together!
Click Zoom Link

7:20pm
Family Havdalah
Candle provided in gift bag!
Click Zoom Link
7:25pm
Thu, June 24 2021
14 Tammuz 5781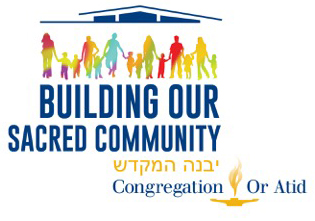 Quick Links
Upcoming Events
Thu, June 24 2021 14 Tammuz 5781