Rabbi Suggests
See these articles recommended by Rabbi Polisson.
​Go here to read this 3-part lecture series from Rabbi Shai Held on Judaism's commandment to love.
Go here for a Q and A with Rabbi Tucker (mentor to Rabbi Polisson) on interfaith families, the idea of post-denominational Judaism, and more.
Go here for this interview with one of Rabbi Polisson's teachers, Rabbi Stephanie Ruskay, who talks about relational community organizing.
Go here to read a piece by another teacher of Rabbi Polisson's, Rabbi Jan Uhrbach, on why, as an American Conservative rabbi, she supports marriage equality.
See these links to music recordings and videos suggested by Rabbi Polisson:

Joey Weisenberg's setting of "Nishmat Kol Ḥai"

Joey Weisenberg's setting of "Lekhu Neranenah"

Nava Tehila's setting of "Mi-Kolot Mayyim Rabbim"

Nava Tehila's setting of "Oseh Shalom"

A Ḥasidic niggun (wordless melody) titled "Yifrah" used for parts of Hallel and Shabbat & Holiday Pesukei De-Zimra
Click here to listen to "Sketch of Helen Lake" by Or Atid high school student Adam Winograd
Click here to listen to "Vignette 2 - A Mariner Longs for Home" by Or Atid high school student Adam Winograd
Check out these photos of interest:
Photo 1 and Photo 2 of Mekhirat Hametz (selling foods prohibited on Passover) on April 19, 2019
Fri, January 28 2022
26 Shevat 5782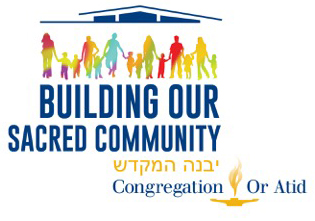 Quick Links
Upcoming Events
Fri, January 28 2022 26 Shevat 5782