Social Action Programs
Social Action Programs
Here are many of the volunteer opportunities organized by Or Atid. You can participate as an individual, or choose an opportunity that works for the whole family. Apply the insights of Jewish tradition to helping those in need and repairing the world one day at a time.
Family Promise Metrowest with Peace Lutheran
Or Atid, in partnership with our next door neighbors Peace Lutheran Church, host homeless families for two consecutive weeks, twice a year. It's an incredible, interfaith community effort, as congregants from many local churches and synagogues helped us out as well.
Help cook meals, set-up, clean-up, be an overnight host or food shop! To volunteer, please register on this new site: http://familypromisemetrowest.org/. In the drop down menu for "Get Involved," click on CERVIS, and follow the instructions listed there. If you have any questions about registering for CERVIS, please contact Cindy.
Community Cooks
Calling all chefs, sous-chefs and shoppers!! We need you!
Congregation Or Atid has joined forces with Community Cooks to provide a month meals to a women's shelter in Waltham. We will be cooking at 9:30 am in the Or Atid kitchen a meal to be delivered for approximately 15 women at this shelter.
Whether you'd like to purchase food items in advance or help us cook the meal Sunday morning, please contact Maggie Rubin at socialaction@congregationoratid.org, to receive an assignment.
High Holiday Food Drive
A Place to Turn food pantry
Please bring your non-perishable food and toiletries before before Kol Nidre service. There will be a space in the back of the sanctuary for your donations.
Family Table
(Box in temple lobby)
Or Atid has been assigned canned soup and canned vegetables to donate to Family Table. Our monthly minimum is 25 of each of these items. Volunteers are needed each month to drive the donated food from our Or Atid lobby to JF&CS in Waltham. Volunteers can also help organize, pack, and distribute the food. For questions or to be added to our volunteer list, please email Beth Winograd.
Bristol Lodge
Volunteers help serve a meal to homeless people at this Waltham soup kitchen. This is a great opportunity for children ages 8 and up, as well as adults. Choose a Sunday, from 4:45 pm to around 5:45pm.
Jewish Family Service of Metrowest
People of all ages, professions, backgrounds, and language abilities volunteer to make a difference. You can visit an elderly person, mentor a first time mother, tutor elementary school students after school, assist in the JFS/MW office and many other opportunities.
Wayside Hospice
By volunteering to help those at the end of life's journey, and their families, you can provide a valuable service within the community. Hospice volunteers learn the meaning of life and dignity from a unique perspective.
A Place To Turn
This food pantry in Natick is committed to providing emergency food and clothing to those in need. In addition to our High Holiday collection, volunteers are needed to help sort food here and to organize their own food and toiletry drives throughout the year.
Donate a Phone
(Box in temple lobby)
We collect used cell phones for domestic violence victims. The phones are reprogrammed to dial 911 and a non-emergency number.
Donations of Leftovers
Leftover food items and flowers from social events like Bar Mitzvahs or corporate functions can be donated to feed the hungry.
How to participate
If you would like to volunteer for one or more of these special programs, just email our social action committee at socialaction@congregationoratid.org. For Family Table, email familytable@congregationoratid.org.
Wed, May 31 2023
11 Sivan 5783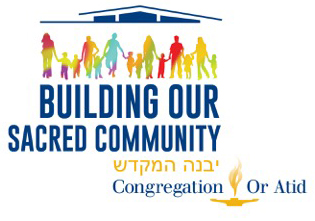 Quick Links
Upcoming Events
For Membership Information Go Here.
We welcome all! For information on Interfaith families Go Here.
Sustaining Pledge Model

Holding true to our core principles, no one will be denied membership at Or Atid for financial reasons. To learn more about our Sustaining Pledge Model Go Here.
Innovative and Accessible Dues Program at Or Atid
Today and every day, members turn to Or Atid as a vital center for celebration, solidarity, learning and support.
New Guide for Reporting Antisemitic Incidents
Anti-Defamation League New England (ADL) and CJP are pleased to announce a new collaboration which has resulted in the creation of an informative resource guide to effectively support our community members in reporting antisemitic or bias incidents. For more information, see CJP's website or download the flyer.

Go to Amazon.com ifor your shopping and to benefit Or Atid! When you make a purchase, Amazon will donate a percentage to Or Atid through the Amazon Associates program.
Wed, May 31 2023 11 Sivan 5783