Privacy Policy
Privacy Policy
Congregation Or Atid – Privacy Policy Statement
As a non-profit organization, Congregation Or Atid places a high priority on protecting your privacy. This privacy policy was created in order to demonstrate our commitment to the privacy of our website users. This policy explains what types of information is collected by our website, www.congregationoratid.org, and how this information is used.
What Personally Identifiable Information is Collected
Individuals who request information about membership, events, or other reasons voluntarily provide us with contact information (such as name, address, phone number, and email address).
How Your Information May Be Used
We use your personal information to communicate with you; to send email responses to you, to answer your questions, to send our newsletters to you, etc. Your information is emailed to our administrative staff, who enters it into our password-protected database. You may choose to opt out at any time to be removed from the database.
E-Mail Privacy
Congregation Or Atid does not sell or rent email addresses to any outside organization.
External Links
The www.congregationoratid.org website includes links to external websites. These links are outside of our control, and Congregation Or Atid is not responsible for the privacy practices or the content of external websites. The links are provided for your convenience, and your use of any linked website is solely at your own risk.
Questions?
If you believe that your personal and/or private information is being used for other than for its intended purpose, if you would like to make corrections to your personal information, or if you have any questions about our Privacy Policy or the practices of our site, please contact our website administrator at webmaster@congregationoratid.org or:
Congregation Or Atid
Attn: Webmaster
PO Box 38
Wayland, MA 01778
508-358-9623
Wed, May 31 2023
11 Sivan 5783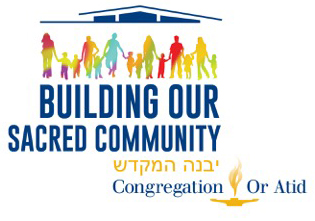 Quick Links
Upcoming Events
For Membership Information Go Here.
We welcome all! For information on Interfaith families Go Here.
Sustaining Pledge Model

Holding true to our core principles, no one will be denied membership at Or Atid for financial reasons. To learn more about our Sustaining Pledge Model Go Here.
Innovative and Accessible Dues Program at Or Atid
Today and every day, members turn to Or Atid as a vital center for celebration, solidarity, learning and support.
New Guide for Reporting Antisemitic Incidents
Anti-Defamation League New England (ADL) and CJP are pleased to announce a new collaboration which has resulted in the creation of an informative resource guide to effectively support our community members in reporting antisemitic or bias incidents. For more information, see CJP's website or download the flyer.

Go to Amazon.com ifor your shopping and to benefit Or Atid! When you make a purchase, Amazon will donate a percentage to Or Atid through the Amazon Associates program.
Wed, May 31 2023 11 Sivan 5783