A Lifetime of Learning
Imagine your son or daughter knowing all of the Shabbat prayers, understanding the history and traditions of our people, and comfortably articulating his or her relationship to God. Or, consider tapping into an exciting array of educational opportunities that satisfy your needs as an adult learner.


Or Atid's Jewish Learning Collaborative
It begins with Kindergarten and goes through the 7th grade with family education programs for even younger children. Each Bar and Bat Mitzvah is uniquely personal with one child conducting the service supported by Rabbi Polisson who is actively involved in your child's preparation.
Special programs for teens
For 8th graders and high school students we offer a unique program called "Telem" which pairs community service with social action and Jewish studies (and can fulfill community service hours required by most High Schools!).
Adult education
We offer an array of opportunities from weekly discussion groups of the Torah portion, beginning Hebrew and special topical discussions. Or Atid has also hosted Hebrew College's Me'ah class, an intensive two year study of Jewish History and literature as well as CJP's Ikkarim program which focuses on parenting through a Jewish lens.
Mon, December 6 2021
2 Tevet 5782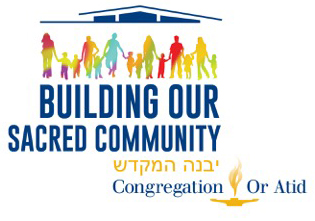 Quick Links
Upcoming Events
Mon, December 6 2021 2 Tevet 5782