Jewish Camping
In combination with an enriching religious school experience, we know from research that attending a Jewish camp can greatly increase the likelihood of a child maintaining their connection to and engagement in Judaism and identifying and participating as a Jewish adult.
Because of this, we strongly support Jewish camping and suggest that parents supplement their child's religious school education by attending one of these highly acclaimed Jewish camps: Jewish Day Camps


Jewish Day Camps
JCC Grossman Camp
Located on 75 acres in the pine-studded Hale Reservation in Westwood, JCC Grossman Camp is a JCC day camp serving boys and girls ages 4 ½ to 15. Go here for more information.
JCC Kaleidoscope Creative Arts and Science Camp
JCC Kaleidoscope Creative Arts and Science Camp, located at the Leventhal-Sidman JCC in Newton, presents boys and girls in grades K-8 with opportunities to make friends, learn new skills, stay active, and nurture their inner artists. Go here for more information.
Jewish Residential Camps
Foundation for Jewish Camp (FJC)
FJC works with over 155 Jewish nonprofit overnight camps across North America, serving 73,000 campers each year. Here's a sampling of their work:
Training programs for year-round and summer staff members, aiding them in creating an enriching, fun, and memorable camp experience for your child
In partnership with your local Jewish community, PJ Library, and Jewish overnight camps across North America, FJC administers the One Happy Camper program, providing need-blind grants of up to $1,000 to families with children attending nonprofit Jewish overnight camp for the first time.
For more information about FJC, go here.
Click here for a listing of Jewish Residential Summer Camps.
Wed, May 31 2023
11 Sivan 5783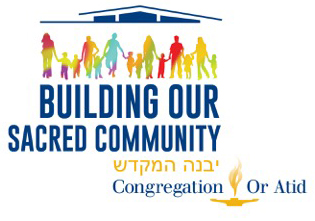 Quick Links
Upcoming Events
For Membership Information Go Here.
We welcome all! For information on Interfaith families Go Here.
Sustaining Pledge Model

Holding true to our core principles, no one will be denied membership at Or Atid for financial reasons. To learn more about our Sustaining Pledge Model Go Here.
Innovative and Accessible Dues Program at Or Atid
Today and every day, members turn to Or Atid as a vital center for celebration, solidarity, learning and support.
New Guide for Reporting Antisemitic Incidents
Anti-Defamation League New England (ADL) and CJP are pleased to announce a new collaboration which has resulted in the creation of an informative resource guide to effectively support our community members in reporting antisemitic or bias incidents. For more information, see CJP's website or download the flyer.

Go to Amazon.com ifor your shopping and to benefit Or Atid! When you make a purchase, Amazon will donate a percentage to Or Atid through the Amazon Associates program.
Wed, May 31 2023 11 Sivan 5783