Israel Summer Teen Travel
Israel Summer Teen Travel
USY Israel Programs
USY offers a broad variety of summer programs to explore Israel! The programs provide an exciting way to explore one's Jewish identity and Israel. Experience the beauty of Shabbat, learn about the power of Tzedakah, and gain inspiration through creative prayer and engaging interactive Jewish learning programs. To learn more about these programs go here.
Nesiya
Join Nesiya for six weeks in Israel with Israeli and North American peers from diverse backgrounds. Nesiya combines outdoor adventure, workshops in the visual, performing and literary arts, community service projects, cultural activities and creative Jewish study in Israel. Participants travel through four regions of Israel – the Negev, Galil, Jerusalem and Tel Aviv, and the Judean Desert – and focus on the origins, development, and role of the land of Israel in the future of the Jewish people.
Nesiya is committed to conducting summer Israel programs of the highest educational quality by: recruiting diverse North American and Israeli peers to participate in every program; arranging private workshops, concerts, and community service projects with leading Israeli artists, activists and educators; choosing distinctive, high-quality facilities in three regions of Israel; hiring experienced and mature adults as counselors and senior staff; maintaining a small group size of 30-35 participants and a high staff to student ratio of 1:8; creating meaningful follow-up opportunities for Nesiya alumni.
The program is open to North American and Israeli students completing grades 10-12. Programs are kosher and no full group activities are conducted that violate traditional Shabbat observance. For more information about Nesiya go here.
BBYO Israel Summer Programs
BBYO offers a variety of Israel Summer Programs: Israel Journey, Israel Journey Plus, Israel Trek, and International Leadership Seminar Israel. Programs range in length, from 21 days to 28 and are open to current 9th - 12th Graders. Journey from the Galilee in the north to the tropical Red Sea in the south. Experience a Shabbat in Jerusalem, watch the sunrise from on top of Masada, and tap into the innovative spirit of Tel Aviv. Israel Journey is a well-balanced opportunity to explore the history, natural beauty, and modern culture of the Jewish Homeland. Go here for more details.
Chetz V'Keshet
Tzofim Chetz V'Keshet (CVK) is a month long Israel Summer Program for teens ages 14-18, from North America and all over the world. Bringing teens to Israel since 1981, CVK has almost 3,000 alumni who have been positively impacted by their experience on the program. The program is a joint summer teen program of the Tzofim (Israel Scouts) and Gadna, the Educational Division of the Israel Defense Forces in cooperation with the Ministry of Absorption and the Jewish Agency for Israel.
Through CVK's unrivaled immersion program, for one month chanichim (participants) are absorbed into the culture, heritage, language, and society as they hike, bike, and tour the country. Chanichim strengthen their connection to Israel by seeing the country through the eyes of both their Israeli peer participants as well as their Israeli counselors. New friendships are made and memories are formed that will last a lifetime! Go here for more details.
Young Judaea
Spend a summer in Israel with Young Judaea, and you won't just fall in love with Israel – you'll live it. Young Judaea offers three jam-packed programs that take you through the mountains of the Galilee, the alleys of Jerusalem, the deserts of the Negev, and so much more. For more information, go here.
Wed, May 31 2023
11 Sivan 5783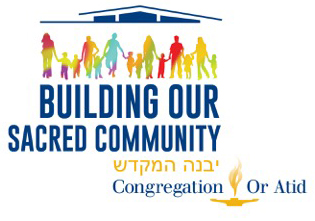 Quick Links
Upcoming Events
For Membership Information Go Here.
We welcome all! For information on Interfaith families Go Here.
Sustaining Pledge Model

Holding true to our core principles, no one will be denied membership at Or Atid for financial reasons. To learn more about our Sustaining Pledge Model Go Here.
Innovative and Accessible Dues Program at Or Atid
Today and every day, members turn to Or Atid as a vital center for celebration, solidarity, learning and support.
New Guide for Reporting Antisemitic Incidents
Anti-Defamation League New England (ADL) and CJP are pleased to announce a new collaboration which has resulted in the creation of an informative resource guide to effectively support our community members in reporting antisemitic or bias incidents. For more information, see CJP's website or download the flyer.

Go to Amazon.com ifor your shopping and to benefit Or Atid! When you make a purchase, Amazon will donate a percentage to Or Atid through the Amazon Associates program.
Wed, May 31 2023 11 Sivan 5783