Israel Gap Year Programs
Israel Gap Year Programs
MASA Israel Gap Year
Intrigued by the opportunity to spend a semester or year experiencing another culture, volunteering, interning, studying, developing your Jewish identity or having an adventure before you head off to college? A gap year in Israel with Masa Israel Journey offers college-bound high school graduates the opportunity to acquire a global perspective and to gain a taste of independent living all while having an incredible Israel experience. Many leading universities in North America encourage admitted students to defer entrance for a semester or a year to explore their interests before deciding what to study in college.
Israel offers thousands of years of Jewish history, cities that fuse the ancient with the modern, a variety of ethnic communities living side by side and global leadership in many of today's most relevant fields—it's the ideal place to take a year "on" before college.
MASA, an initiative between the Government of Israel and the Jewish Agency for Israel, serves as an umbrella organization for long-term (one semester to one year) programs. Need-based scholarships are available. MASA is not a program. Rather, it is a portal to Israel Gap Year programs. For more info, go here.
Nativ
Designed to create Conservative Jewish leaders of the future, the first semester of the program is spent studying at Hebrew University or the Conservative Yeshiva, and the second semester is spent living on a kibbutz or performing community service in a developing community. For more info, go here.
Kivunim: New Directions
Kivunim: New Directions provides a unique opportunity for international travel and study. Built around international field trips, Kivunim focuses on enhancing our understanding of the history and contemporary life of international Jewish communities. The program is based at Beit Shmuel in Jerusalem. For more info, go here.
Aardvark
Aardvark Israel Gap Year is a 9-month program in Israel for recent high school graduates from all over the world that combines immersion into Israeli Society, service to the community through volunteer work and internships, and learning about Israel and Judaism through both formal academic and informal educational encounters. As a fully accredited university program, students may earn college credit for their coursework while on the program.
Aardvark Israel meets the needs of today's "millennial" students by offering a core program with a menu of add-on options enabling students to build their own gap year. Aardvark Israel also meets the needs of today's parents by providing a better program for a better price than what is currently otherwise available. For more info, go here.
Young Judaea Year Course | Gap Year in Israel
Year Course isn't a year off between high school and college – it's a year ON! Participants expand their minds, horizons, and life experience as they discover another culture, volunteer, study, and develop their Jewish identity before heading off to college. Young Judaea Year Course, the original gap year in Israel, gives one the opportunity to step out into the world, gain valuable life experience and skills, and begin the transition to independence.
The program is open to recent high school graduates ages 17-19. Israel is the classroom! Participants earn up to 30 college credits while learning Hebrew, participating in life changing volunteer activities, and living with peers from the United States, Israel, and around the world. For more info, go here.
Wed, May 31 2023
11 Sivan 5783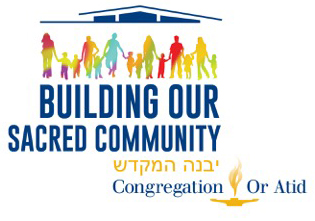 Quick Links
Upcoming Events
For Membership Information Go Here.
We welcome all! For information on Interfaith families Go Here.
Sustaining Pledge Model

Holding true to our core principles, no one will be denied membership at Or Atid for financial reasons. To learn more about our Sustaining Pledge Model Go Here.
Innovative and Accessible Dues Program at Or Atid
Today and every day, members turn to Or Atid as a vital center for celebration, solidarity, learning and support.
New Guide for Reporting Antisemitic Incidents
Anti-Defamation League New England (ADL) and CJP are pleased to announce a new collaboration which has resulted in the creation of an informative resource guide to effectively support our community members in reporting antisemitic or bias incidents. For more information, see CJP's website or download the flyer.

Go to Amazon.com ifor your shopping and to benefit Or Atid! When you make a purchase, Amazon will donate a percentage to Or Atid through the Amazon Associates program.
Wed, May 31 2023 11 Sivan 5783