Faculty Directory
Faculty Directory
Our Rabbi:
Rabbi Louis Polisson
Rabbi Polisson is an alumnus of Brandeis University and graduated and received his ordination, as well as a Master's Degree in Jewish Thought, from the Jewish Theological Seminary in New York. He believes that the future of Judaism lies in our embrace of both the old and the new, both tradition and change, and the rediscovery of Judaism as a life-giving, life-affirming, and evolving tradition that is relevant to every generation.
Director of Education:
Orna Sonnenschein
Orna has over 15 years of administrative and education experience working with several synagogues and Jewish organizations in the Boston area. She places great emphasis on the well-being of our children and their parents; designing meaningful yet fun experiences in the classroom; and encouraging social and emotional growth while nurturing the development of self and identity. She joins Rabbi Polisson in leading our Jewish Learning Lab and youth programming.
Administrative Staff:
Beth Whitman
Beth is an important person in our office, assisting with school and synagogue activities, helping with room set up for special events and the production and delivery of communications to our membership.
Classroom Teachers:
Bereishit/Aleph K/1: Nava Eisenberg
A creative educator with over thirty years experience working with young children. On Wednesdays, Nava serves as our Hebrew specialist, helping children at all levels find mastery and comfort with the Hebrew language. Nava was born and raised in Israel, graduated from Tel Aviv University and has been involved in Jewish education for over 25 years both as a classroom teacher and administrator.

Kitah Bet/Gimmel/Dalet Grade 2-4: Jennifer Marshal
A recent graduate from Framingham State, with advanced training in special education, Jennifer is known for her ability to create a fun learning environment in her classroom.
Kitah Vav Grade 6: Dr. Yale Zussman
Dr. Z comes to the JLL with years of experience teaching middle school and high school aged children. You can also find him reading Torah at various congregations on Saturday mornings!
Kitah Zayin Grae 7: Rabbi Louis Polisson
We are thrilled to have our Rabbi teaching our 7th graders.
Educational Support Staff:
Hebrew Specialist: Nava Eisenberg
Specialist Education Consultant: Arlene Schrager
Special Education Aide: Caron Koss Warren
Shabbat Limmud Staff:
Kindergarten & Grade 1: Nava Eisenberg
Grade 6: Larry Sternberg
Contact information
If you would like to reach our administrative staff or one of our teachers, call the Or Atid office at 508-358-9623 or email Rabbi Polisson at Rabbi@congregationoratid.org.
Thu, May 28 2020
5 Sivan 5780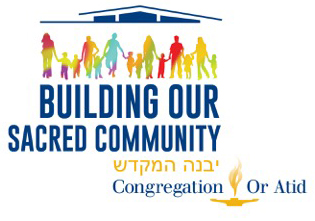 Quick Links
Upcoming Events
Thu, May 28 2020 5 Sivan 5780