Community Service
Community Service
In keeping with our philosophy of acts of loving-kindness and repairing the world, the religious school provides community-based service projects for each grade. These have ranged from caring for animals through visits and donations to Buddy Dog, a local animal shelter, to sharing and leading Shabbat services for elderly Jewish residents at an assisted living facility. Activities planned for each grade.
Bar/Bat Mitzvah Community Services
In the spring, our students who are approaching their Bar/Bat Mitzvah serve a meal at Bristol Lodge, a soup kitchen for the homeless in Waltham. In addition, students engage in a community service project of their choice during the year leading up to their Bar/Bat Mitzvah ceremony.
Wed, May 31 2023
11 Sivan 5783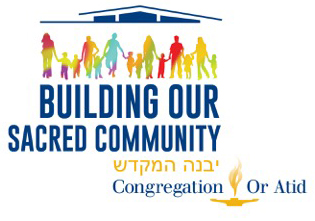 Quick Links
Upcoming Events
For Membership Information Go Here.
We welcome all! For information on Interfaith families Go Here.
Sustaining Pledge Model

Holding true to our core principles, no one will be denied membership at Or Atid for financial reasons. To learn more about our Sustaining Pledge Model Go Here.
Innovative and Accessible Dues Program at Or Atid
Today and every day, members turn to Or Atid as a vital center for celebration, solidarity, learning and support.
New Guide for Reporting Antisemitic Incidents
Anti-Defamation League New England (ADL) and CJP are pleased to announce a new collaboration which has resulted in the creation of an informative resource guide to effectively support our community members in reporting antisemitic or bias incidents. For more information, see CJP's website or download the flyer.

Go to Amazon.com ifor your shopping and to benefit Or Atid! When you make a purchase, Amazon will donate a percentage to Or Atid through the Amazon Associates program.
Wed, May 31 2023 11 Sivan 5783