High Holidays Childcare (3 months - Grade 5)
High Holidays Childcare (3 months - Grade 5)
We'll take great care of your kids!
Your children will love spending time in our care and you can feel confident knowing that we have highly qualified helpers working with us. The kids will have fun playing age appropriate games, showing their creativity with a craft project and enjoying delicious Kosher snacks.
Childcare schedule
All days of Rosh Hashanah and Yom Kippur, 9am - end of services.
Register for childcare online
For your convenience, now you can register for our highly regarded childcare services online.
Sign up to support the childcare program
While we arrange for babysitters, we ask that parents volunteer for a time slot to help this program run smoothly at the check in table. Click here to volunteer for a time slot.
Cost for childcare
$15.00 per child per day
Please send payment to Congregation Or Atid, PO Box 38, Wayland, MA 01778 and indicate that it is for High Holiday childcare.
Additional Childcare Information
All children must be registered with childcare staff upon drop off.
For your children's protection, they cannot leave the room without a designated adult.
Parents should bring appropriate equipment/supplies for their child, i.e. diapers, wipes, bottles, etc.
Age-appropriate toys and crafts will be available. Every effort will be made to accomodate your child's needs. We would appreciate if parents supervise disruptive or inconsolable children.
KOSHER SNACKS WILL BE PROVIDED SO PLEASE LEAVE YOUR SNACKS AT HOME!
Questions?
Call 508-358-9623 anytime or send us an email at highholidays@congregationoratid.org.
Wed, June 23 2021
13 Tammuz 5781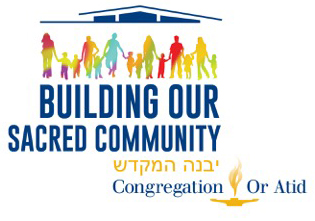 Quick Links
Upcoming Events
All Events
Wednesday

,

Jun

June

30

,

2021

Taste of Hebrew Reading sample class


Wednesday, Jun 30th

7:30p

to

8:30p




Come and enjoy a free "Taste of Hebrew Reading" Sample Class Wednesday, June 30, 7:30- RSVP rabbi@congregationoratid.org

Friday

,

Jul

July

9

,

2021

Kabbalat Shabbat Outdoors


Friday, Jul 9th

6:00p

to

7:00p




Join Rabbi Polisson and friends outdoors at Or Atid to celebrate Spring and welcome Shabbat with songs of gratitude and joy! Let's salute the new season and count the Omer together. RSVP required for in-person attendance This program will also be available on ZOOM and Live-streamed on Facebook. Zoom link here

Sunday

,

Jul

July

11

,

2021

Racial Justice Working Group


Sunday, Jul 11th

4:00p

to

6:00p




Racial Justice Working Group

Thursday

,

Sep

September

23

,

2021

Board Meeting


Thursday, Sep 23rd

7:30p

to

9:00p




Wednesday

,

Oct

October

13

,

2021

Board Meeting


Wednesday, Oct 13th

7:30p

to

9:00p




Wednesday

,

Jan

January

12

,

2022

Board Meeting


Wednesday, Jan 12th

7:30p

to

9:00p




Wednesday

,

Mar

March

23

,

2022

Board Meeting


Wednesday, Mar 23rd

7:30p

to

9:00p




Wednesday

,

Apr

April

13

,

2022

Board Meeting


Wednesday, Apr 13th

7:30p

to

9:00p




Saturday

,

Apr

April

30

,

2022

Lisa Levine-Smith Bat Mitzvah


Shabbat, Apr 30th

9:30a

to

12:30p




Saturday

,

May

May

7

,

2022

AJ Ahavah Rosenthal Bat Mitzvah


Shabbat, May 7th

9:30a

to

12:30p



Wed, June 23 2021 13 Tammuz 5781