The Or Atid Bar/Bat Mitzvah Experience
The Or Atid Bar/Bat Mitzvah Experience
Nothing is more important to the life of a congregation than the joyous rites of passage that touch the lives of our families and community. It is the Bar/Bat Mitzvah who brings our community together - leading us in prayer, chanting from the Torah and speaking of meaningful experiences as they assume their new role as a young adult.
When you attend an Or Atid Bar/Bat Mitzvah you'll see what truly sets us apart. Our students have full command of the service, demonstrate their advanced Hebrew skills when reading from the Torah, and show true insight and knowledge of this special occasion.
Uniquely personal with one child leading the service
We are committed to working closely with each student so that on their Bar/Bat Mitzvah day they feel comfortable and confident in leading the service. Students learn trope for chanting the Torah and Haftarah and review all aspects of the service with Rabbi Polisson. The Rabbi also works with the B'nai Mitzvah in writing a D'var Torah, a commentary on their portions, which provides an important first experience in serious text study.
Community service project
One of the key responsibilities for every Jew is tzedakah and acts of loving-kindness. We require that our Bar/Bat Mitzvah students choose a specific charity and engage in some kind of volunteer work or community project as part of their preparation. Community service activities also provide personal experiences about which they can speak with authority, sensitivity, wisdom and purpose.
Let us be your guide
Planning a Bar/Bat Mitzvah for your child is a joyous time but can also seem overwhelming. We provide a complete step by step guide for organizing this happy occasion with all the resources you'll need to make it an unforgettable day for your familly. Check out "Useful forms" in our Resources section for important event planning tools and information about our function room and kitchen.
Mon, December 6 2021
2 Tevet 5782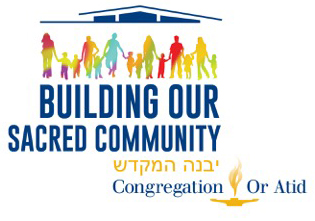 Quick Links
Upcoming Events
Mon, December 6 2021 2 Tevet 5782