Sustaining Pledges
Sustaining Pledges
Keeping our Community Open to All
Sustaining Pledges are the core component for Or Atid's annual revenues. They help build our community and promote inclusiveness, ensuring that no one will be denied membership for financial reasons.
Our financial values are:
As a congregation we will always provide for our mutually determined, collective needs.
We all share in the cost of lifelong learning, spiritual exploration and observance, and serving the community, locally and globally.
No one will ever be denied membership for financial reasons.
We have faith that those who can give more will give more.
Everyone will financially participate at some level.
Building and Sustaining Community
Our community is the sum total of the efforts of its members. Together, our contributions of time, effort, and financial support are essential to who we are and what we may accomplish together. Our finances support our home and all that we do throughout the year. Sustaining Pledges pay for our Rabbi and our teachers, our programs and community events. They pay for our heat and lights, cutting the grass in the summer and snowplowing our driveway and shoveling and walkway the winter. It pays for the small repairs and maintenance that arise throughout the year. In other words, Sustaining Pledges are essential to Or Atid's success; they truly represent a congregation-wide effort to ensure the health and vitality of our synagogue for years to come.
Making Your Donation
Every donation, regardless of amount, is critical to our success. Your Sustaining Pledge contribution matters. You can make your donation by check (send to Or Atid at PO Box 38, Wayland, MA 01778), or credit card (just click the "Donate" button below). You can also email the Treasurer for more information, or to make your pledge.
You can now make your donation by Credit Card
Simply click on the "Donate" button and make your credit card donation. Please note: Donations made using a credit card reduce the amount received by Or Atid by 2.2%, as a credit card processing fee is incurred. To ensure the full amount of your intended donation is received by Or Atid, please consider adding to your donation accordingly.
Thanks to all for making a Sustaining Pledge. Your participation helps to keep our congregation going and growing!
Sat, May 15 2021
4 Sivan 5781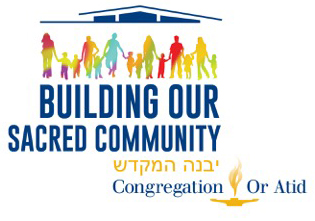 Quick Links
Upcoming Events
Sat, May 15 2021 4 Sivan 5781